Profile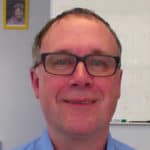 Simon Langley-Evans
Excited to be returning to I'm a Scientist for a second time.
Curriculum Vitae
Education:

Icknield High School 1981. Luton Sixth Form College 1983. Royal Holloway College 1986- BSc Biochemistry. Southampton University 1990.

Qualifications:

13 O-levels (what they called GCSEs in the old days), 3 A-levels (Chemistry, Biology, Maths), BSc Biochemistry with Microbiology, PhD, DSc.

Work History:

I have worked in many roles in UK universities as a researcher, lecturer and professor. I have worked at the universities of London, Nottingham, Northampton and Southampton.

Current Job:

I am Professor of Human Nutrition and the Deputy Head of School of Biosciences.
My Interview

How would you describe yourself in 3 words?

Enthusiastic, busy, supportive (and excited about doing this!- sorry I cheated)

Who is your favourite singer or band?

My favourite is a band called Yes (from the 1970s) but I really like London Grammar at the moment too.

What's your favourite food?

Curry.

What is the most fun thing you've done?

Flying in a glider. It was quite scary landing with no engine and just one wheel.

If you had 3 wishes for yourself what would they be? - be honest!

1. To be World President. 2. To go into space. 3. To be a member of the first mission to Mars. If I achieved number 3, then the first two might change a bit!

Tell us a joke.

What do you call two dinosaurs that have been in an accident? Tyrannosaurus wrecks.

My profile link:
https://ias.im/u.44595
---
---